%@ Page Language="C#" ContentType="text/html" ResponseEncoding="iso-8859-1" %>
netKar PRO - Activation FAQ
These are the typical problems our users seem to report.
1. SUCCESS, BUT STILL UNLICENCED
This is a screenshot of the typical problem: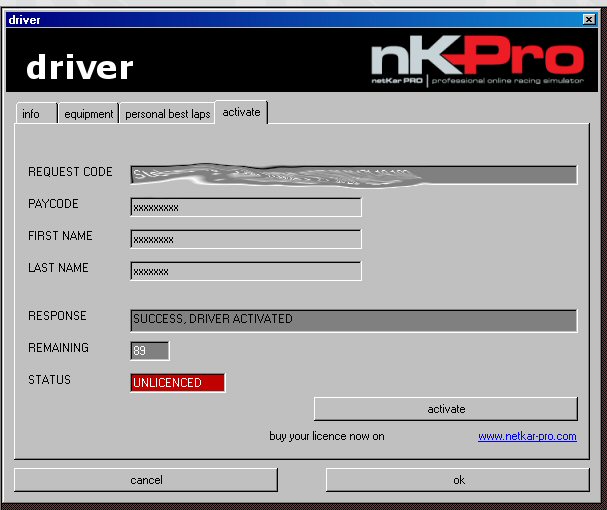 After hitting "activate", the connection with the licence server is succesfull, the RESPONSE turns into "SUCCESS, DRIVER ACTIVATED", but the STATUS remains UNLICENCED.
REASON:
The driver name contains special characters.
CURE: Delete everything from your "drivers" folder. Create a new driver using only ASCII standard characters.
2. WINDOWS 2000 USERS
The licencing process goes fine, but, once in the car, the AIM display remains off and the car doesn't start.
CURE:
If you are running Windows 2000, please download and install the update:
www.netkar-pro.com/fixes/netKarPROw2kfix.zip
3. USER UNKNOWN, CHECK YOUR DATA
Hitting "activate" will generate the message "USER UNKNOWN, CHECK YOUR DATA" in the RESPONSE box.
REASON 1:
You Preordered netKar PRO and your first or last name contains special characters.
CURE:
Send an email to support@netkar-pro.com, we'll fix the problem ASAP.
REASON 2:
You used eCheck, or Bank Transfer to pay using PayPal. PayPal will inform us when the transaction is completed, this could take some days. Once the transaction is completed your data will be inserted into the database and the user will be active.
REASON 3:
You are not inserting the correct PAYCODE to activate the product. The PAYCODE is not the one found in the PayPal email, but the one found in the email from orders@netkar-pro.com and in the final page after your purchase on our website. If you are unsure about your PAYCODE, contact us with the details of your PayPal transaction and we'll send your data ASAP.